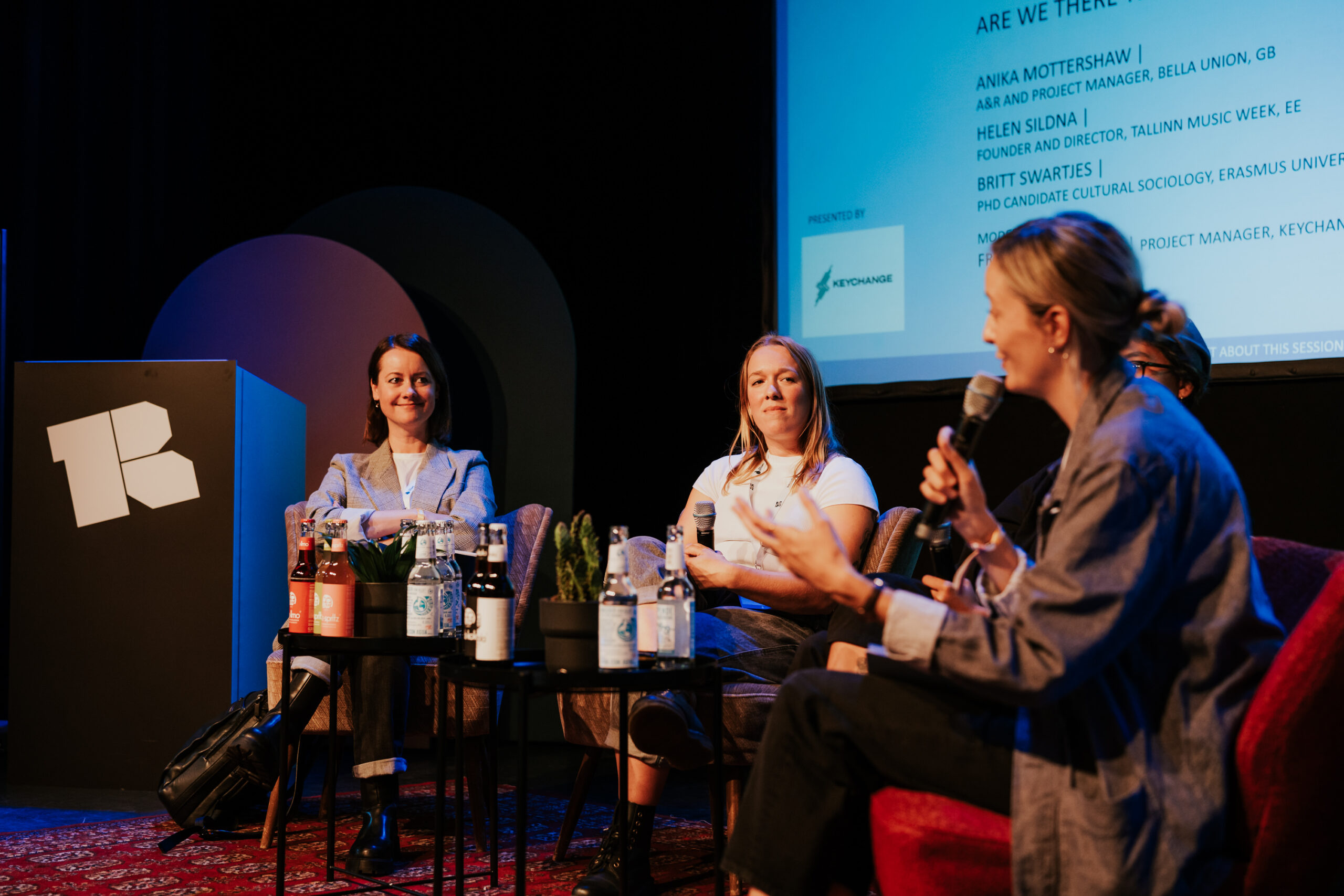 Keychange unveiled the Pledge Action Plan and next steps to achieve gender balance in the global music industry
The launch of the Plan coincided on Wednesday with a busy schedule of activities in Brussels.
Today, Keychange, the pioneering international initiative for gender equality in the music industry, shared an update on the progress of the Keychange Pledge and revealed the next steps of its Action Plan to achieve gender equality in the music industry globally.
The Pledge Action Plan has been developed by Keychange based on the analysis of data provided by Erasmus University Rotterdam and gathers the opinions of more than 200 pledge signatories worldwide over 5 years. The plan highlights the progress made, the challenges faced and the next steps needed for Keychange to continue its work to achieve gender equity in the music industry.
It was in 2017 that Keychange Pledge and its flagship "50/50 by 2022" campaign were launched. Festivals and music conferences were invited to commit to achieving 50/50 representation on their stages by 2022. Pledge evolved in 2018 with an invitation to all music organizations to commit to reaching at least 50% representation of women and gender-expansive people in one or more areas of their work, by 2022 or a self-determined timeframe.
After five years of engaging music organizations around the world in gender balance frameworks, Keychange can now reveal some key findings from the research:
By the end of 2021, 64% of the signatories to the reporting commitment had already met or exceeded their commitment to at least 50% representation of women and gender-responsive artists and professionals. Other signatories are working to self-defined deadlines (all within 5 years of signing the commitment) and making significant progress towards achieving their objectives.
More than 600 music festivals and organizations around the world have already committed Keychange to put in place sustainable structures and practices to provide more space and opportunities than ever before for women and gender-sensitive creators and professionals throughout the music industry.
Keychange is a global movement: Gender inequality is a global problem that requires global action. The Keychange pledge is open to signatories from all countries, and with 222 out of 613 signatories, the United Kingdom is currently the country with the highest number of signatories to the Keychange pledge, followed by Germany with 57 and Canada with 41. More than 160 signatories have joined the movement in other Keychange partner countries: Sweden, Estonia, Italy, Norway, Iceland, France, Spain, Poland and Ireland.
The specific action works. Keychange Pledge signatories EFG London Jazz Festival, Eurosonic Noorderslag, EBU Music, SACEM, Tunecore and Wide Awake Festival have shared their views on the benefits of prioritizing gender-balanced templates, rosters and lineups and why it's good for business.
Keychange Pledge: Plan de Acción en 4 puntos
Keychange will develop new frameworks, targeted campaigns and global outreach to support its signatories in achieving their pledged ambitions through a new 4-point plan focused on developing and calling for action across the industry under the following headings:
Beyond Gender: Working for gender balance in the music industry requires actions that represent women and gender-sensitive people from all underrepresented backgrounds. This requires a strong focus on intersectionality in creating commitments and monitoring progress, ensuring direct representation and input from women and gender-sensitive people of all races, ethnicities, (dis)abilities and social classes in all Keychange activities.
Urgent Action: Encourage the global music industry to create detailed, time-focused and intersectional commitments to bring about proactive change across the sector.
Global community: Create roundtables, workshops and conversation spaces for different sectors of the music industry to share best practices, information and advice for development and progress.
Education and activism: Keychange will develop new guidelines, best practices and monitoring support for individual signatories.
The launch has coincided with a special live event
The launch of the Pledge Action Plan coincided with a busy schedule of Keychange activities in Brussels on Wednesday, February 15. The Keychange Advocacy Event was held at the Grands Carmes community space, followed by a special Keychange Presents live event featuringKeychange Talent Development Programme alumni:British alternative soul singer Tawiah and Swedish dream rock quartet The Hanged Man. The two shows took place at Ancienne Belgique, one of Belgium's top concert venues and coordinator of Liveurope, the live music platform for new European talent.
About BIME's partnership with Keychange
Keychange is a pioneering international initiative that transforms the future of music by encouraging festivals and music organizations to reach at least 50% women and gender-responsive people in their programming, staffing and beyond. Each year, 74 emerging and innovative artists from across Europe and Canada participate in international festivals, exhibition events, collaborations and a creative labs program. Keychange aims to accelerate change and create a better and more inclusive music industry for present and future generations.Keychange aims to accelerate change and create a better and more inclusive music industry for present and future generations.
Since 2018 BIME has been collaborating with the Keychange organization to support the projects it develops in favor of gender equality in the music industry. BIME is aware of the current need to take action to generate a community free of inequality in the cultural sphere. In fact, on its tenth anniversary, BIME held the BIME Equity Ibero-American Awards, created with the aim of giving visibility and recognizing the talent, trajectory and future projection of women and dissidents who make up the artistic and/or professional fabric of the Ibero-American music industry.
For all these reasons, BIME decided to join Keychange to be a loudspeaker for its programs and to be a key alliance to advance in the total elimination of the existing gender gap in the music industry at a global level, a goal shared by both projects.
💜Discover the Keychange database of participating "artists" and "innovators".
💜Listen to the songs of Keychange participants.
💜Join Keychange and be part of this vital movement for change.
#keychange #representation #genderbalance