The music
industry's advanced
training program
The cycle of theoretical and practical training given by professionals in the cultural and creative industries aimed at all those who want to deepen their knowledge of the music industry and create connections with other entrepreneurs and professionals.
Campus offers all its students the opportunity to get into the core of the industry. The program thus expands future business opportunities for students by implementing synergies with related companies and businesses associated with the music sector. The perfect opportunity to facilitate the relationship of business practices, improve the employability of students and facilitate the process of employment of the university community in the music industry.
CAMPUS+ BOGOTÁ SCHOLARSHIP
Get a BECA CAMPUS scholarship to enjoy a unique experience at BIME Bogotá. Immerse yourself in the Latin American industry with all expenses covered.
The selection will be made by means of a challenge.
The selection will be made through a challenge and the call will be open until September 4.
THE CHALLENGE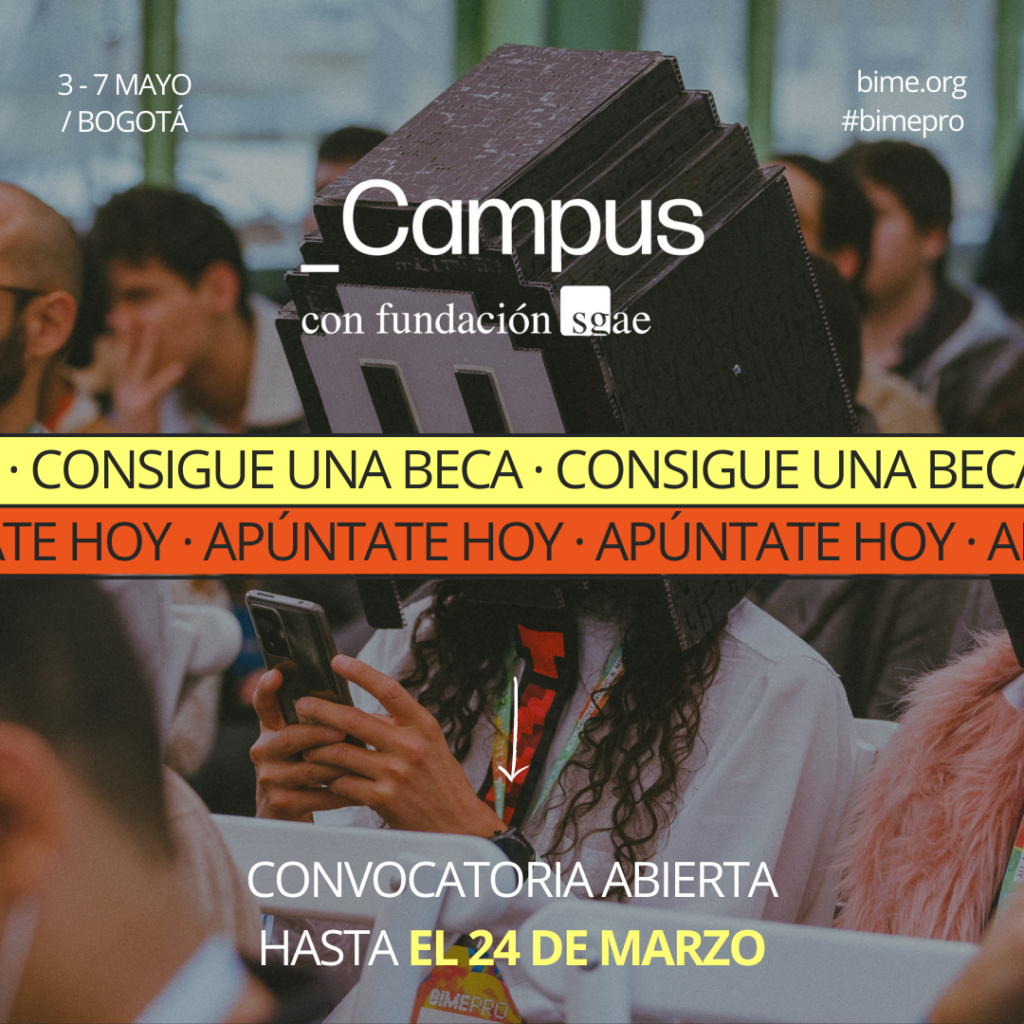 Explain in a 1-minute video:
* Presentation
* Your background (studies, experience)
* Why would you like to focus your professional career in the music industry? Objectives and motivations?
* What attracts you the most to attend BIME Bogotá? Opportunities you see in Latin America.
INNOVATION · MARKETING · SUSTAINABILITY · COMMUNICATION · CREATIVITY · DATA · MUSIC SUPERVISOR · MANAGEMENT · RECORD COMPANIES · PSYCHOLOGY · NEW TECHNOLOGIES · RECRUITMENT · LEGAL · PRODUCTION · AND MANY MORE…
OBJECTIVES
To guide students through a complex, dynamic, innovative industry that is constantly reinventing itself and, therefore, full of possibilities.
Create an environment that helps young people start writing a future through the music industry.
To offer a base of theoretical and practical knowledge that can be used both to start a professional career in the sector and to consolidate a previous career.
Establish alternative routes in the music industry to facilitate and multiply artistic and professional flows between Latin America and Europe.
Campus EVENTS
See all events