BIME UNVEILS DETAILS OF ITS NEW INTERNATIONAL MUSIC EVENT
IN BOGOTA
From 3 to 7 May, the San Felipe Creative District in Bogotá will host a full programme of workshops, lectures, concerts and cultural activities around the music industry.
The meeting can be followed online at bime.org.
Bogota is once again the official Latin American venue for BIME, the essential event for music industry professionals and an opportunity for local audiences to discover first-hand the artists who will be trending in the near future.
BIME, a world reference in this field, will take place from May 3 to 7 at the San Felipe Creative District, a very special place in the heart of the Colombian capital, where culture, creativity and entrepreneurship converge. The meeting has the support from the Secretariat of Culture, Recreation and Sports of Bogota and Open San Felipe.a powerful project that seeks the plurality of the arts on the same stage and with common objectives with respect to the cultural, professional and economic development and its artists; allowing an organic integration with the city and its extensive and varied programming of the congress.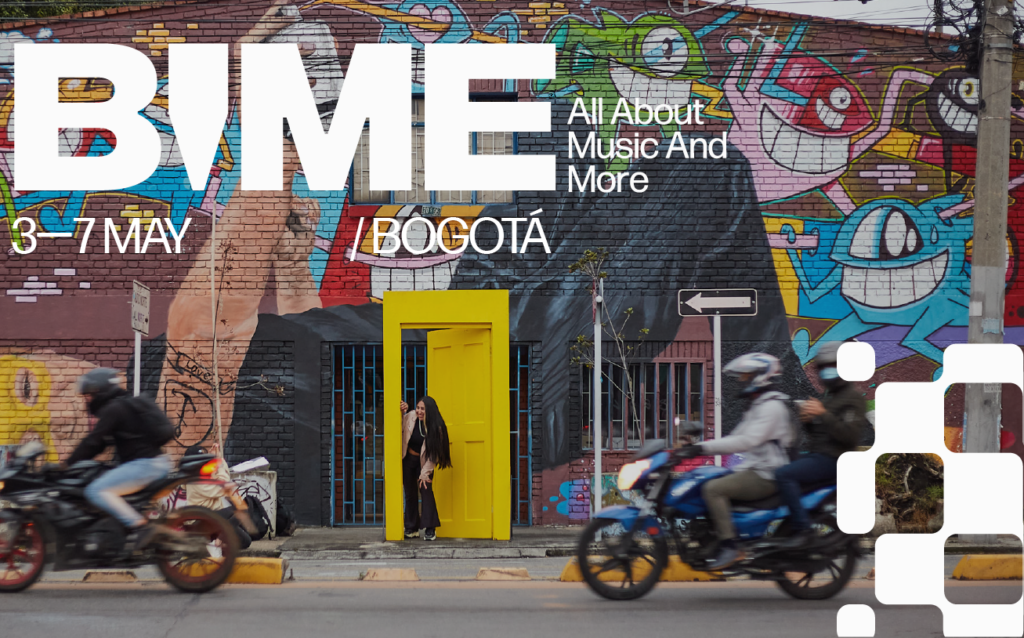 THE FUTURE OF MUSIC IS DEBATED AND BUILT AT BIME
For the past 11 years, BIME boosts the international music industry and seeks, from the local and universal, the answers to the challenges of the sector, while offering the citizenship a extensive programming live music, bringing together the latest trends musical from all over the world.

The bridge between Europe and America and becomes evident with the participation from more than 40 countries, with performances by artists and participation of delegations from Canada, the United States, Mexico, Cuba, the Dominican Republic, Colombia, Venezuela, Peru, Chile, Argentina, Brazil, Spain, France, Austria, Germany, the Netherlands and Finland, among many others.
The meeting consists of a complete and diverse program divided into two main areas: BIME PRO, the congress aimed at the professional public, and BIME LIVE, the program open to the public.
A WIDE-RANGING PROGRAM LED BY LEADING INDUSTRY FIGURES
The first edition of this congress in Bogota, held in May 2022, brought together 2,800 people for its professional sessions, and the one held in Bilbao in October brought together more than 1,500 leading companies in this rapidly expanding industry. Similar figures are expected for this year, where international industry leaders will gather around a program full of presentations, masterclasses, workshops and networking.
The sustainability, the copyright, music monitoring, digital platforms, collecting societies and record labels, web 3.0, synchronization and artificial intelligence will be just some of the topics to be discussed by the more than 130 professionals who will participate in the official program, which will include Adrián Restrepo (ES) general director of SGAE; Anamaria Artemisa Sayre (CO/US) of NPR Alt.Latino; Andres Shaq (CO) of Warner Music; the renowned producer Camilo Lara (MX), Clara Pérez Miñones (UK) of Full Fat; Devin Landau (US) international agent and founding partner of TBA Agency; Frankie Rodriguez (US) President of Franchize Entertainment; Isabelia Herrera (US) of Pitchfork; Jonathan Finegold (US) renowned music supervisor and founder of Fine Gold Music; Julyssa Lopez (US) from Rolling Stone; Juan Tomás Tello (ES) music supervisor of La Casa de Papel; Kanessa Tixe (US) Founder of TS Collective; the artist Kasbeel (CO); Lex Borrero (CO/US) co-founder and director of Neon 16; Loren Medina (US) of Guerrera; Maria ElIsa Ayerbe (CO/US) Latin Grammy winner and CEO of the independent label South Mountain Music; Nicolas Madorey (AR) Director of FUTURX; Paz Aparicio (ES) director of the WiZink Center in Madrid; the artist Roco Pachukote (MX) co-founder of the group Maldita Vecindad; Rubén Gutierrez Del Castillo (ES) Director of Fundación SGAE and Veronica Piana (UR) manager of Cuarteto de Nos; among many more speakers to be unveiled soon.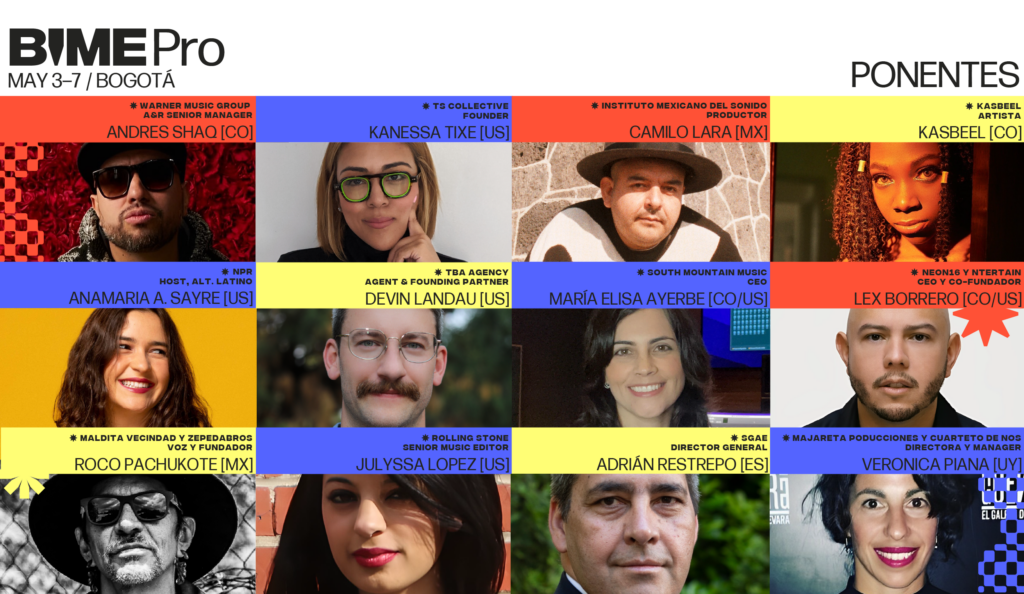 Top international agents, as well as the main festival and tour promoters, along with representatives of large venues/arenas, will also be part of these days. The CAMPUS space, in collaboration with the SGAE Foundation, will offer a valuable training program , with masterclasses and workshops, aimed at people looking for a niche in this industry and for which the international call for applications for a scholarship is already open. There will also be a place for innovators, entrepreneurs and those seeking to accelerate their business, who will meet at the StartUp VillageThe exhibition area to showcase a selection of the most disruptive proposals in the sector to major investors and corporations. Startup Competition where the 8 finalists will compete for a trade-mission to BIME Bilbao, among other important awards.
The MUSIC EQUALITY FORUM will continue working to achieve a more egalitarian and inclusive industry with the collaboration of Keychange, shesaid.so, Femnoise, Ruidosa, MUSAP, WIM Colombia, MIM LATAM, Mapa LGTBI and Equal Music, among others. BIME will provide the basis for the construction of a directory of associations that fight for a fairer music industry for women and LGBTIQ+ groups globally.
Once again BIME has the Conexiones i program to help the internationalization of small and medium-sized companies in the music industry, promoted in collaboration with the Spanish Ministry of Culture and Sport, within the framework of the Next Generation EU program.
CULTURAL ACTIVITIES OPEN TO ALL CITIZENS
Free access programming BIME LIVE will include live music and a Vinyl Market among other activities, in addition to the program of the special edition Open San Felipe by BIME which on this occasion will be exceptionally extended for 5 days, starting on Wednesday, May 3 and ending on Sunday, May 7. More details on these activities will be unveiled in the near future.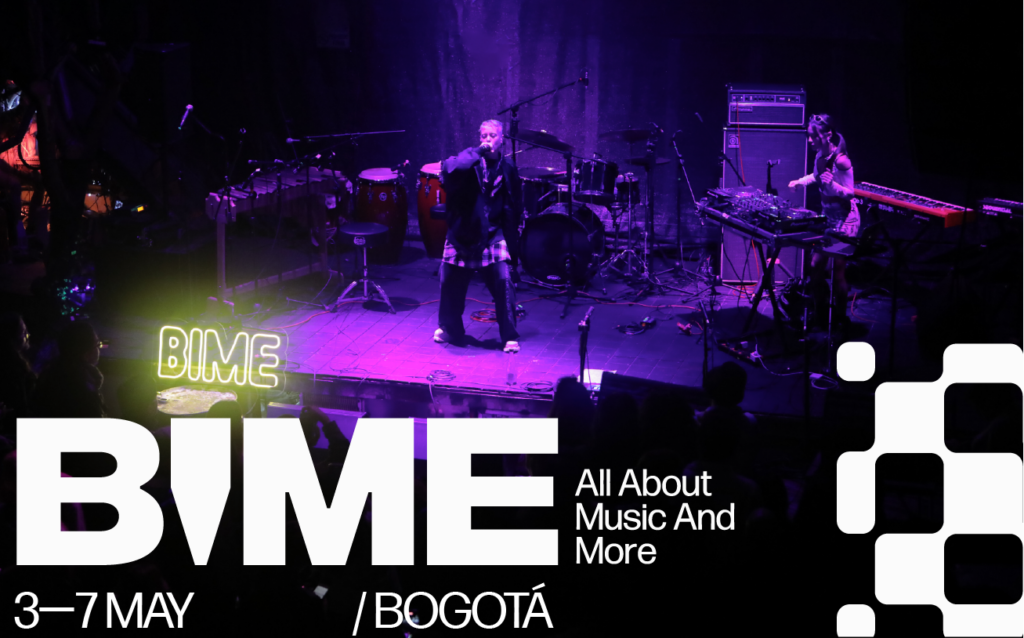 BIME, A YEAR-ROUND CONNECTED COMMUNITY
Dialogue and networking is always available through bime.org and its online platform, which is active 365 days a year and allows participation from all over the world, as well as access to networking at any time. It is the virtual meeting place where music professionals worldwide stay connected, and where to revisit the debates and presentations that took place during the previous editions.
Accreditations for the professional conferences and access to this platform will be available for purchase starting next Friday, February 24 at tuboleta.com and through bime.org.
BIME is supported by the Secretaría de Cultura, Recreación y Deporte de la Alcaldía Mayor de Bogotá, the Spanish Ministry of Culture and Sports, the SGAE Foundation, Sounds from Spain-ICEX, Cancillería Argentina-INAMU, Chilemúsica, Acción Cultural Española, AIE, Navarra Music Commission and Basque.Music, among many others.
BIME
Bogotá May 3-7, 2023
Bilbao October 25-28, 2023
Accreditations:
BIME PRO: access to the entire event + showcases.
BIME CAMPUS: access to the event + showcases at a reduced price for students and under 25s.
BIME ONLINE: access to the online event and the BIME platform.
Ticket sales:
As of 24/02
in [www .tuboleta.com]www.tuboleta.com and [www .bime.org]www.bime.org
@bimenet_ #bime
All about music and more