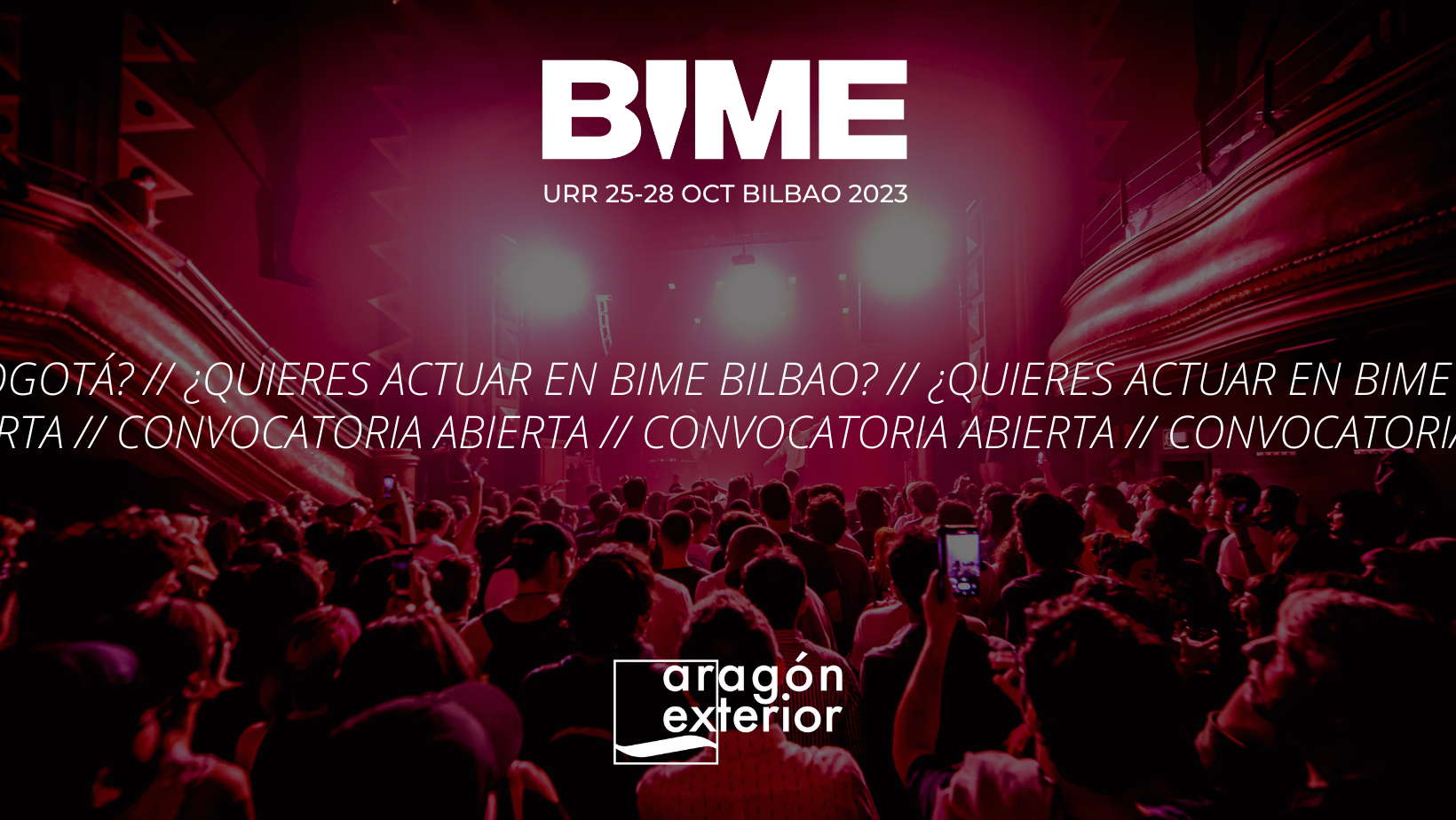 [CLOSED] BIME BILBAO 2023 call for Aragonese bands and soloists is now open!
This year, the BIME showcases will feature the participation of two Aragonese groups or soloists, thanks to the support of Aragón Exterior.
BIME showcases are the perfect showcase for emerging bands. A space where to show the most select of the emerging scene to festival programmers, managers, journalists and other agents of the music sector. In addition, the two selected projects will also have the opportunity to participate in the three-day BIME congress. Where they will be able to train, learn, interact with people from all areas of the music industry and discover the latest trends in the sector.
BIME 2023 will be held from October 25 to 28 in Bilbao. You can apply until 11 June by filling in this form.
The selection of participants, according to criteria of originality, suitability and artistic quality of the works, will be in charge of BIME's organizers.
Specific rules of the call:
1. Musical proposals, artists and/or bands from Aragon.
2. To be of legal age.
3. The application will only be valid through the application form.
4. Convocatoria abierta de hasta el miércoles 31 de mayo a las 23:59.
5. The selection of the bands is made solely and exclusively by BIME's programming area and Aragón Exterior will be in charge of the diffusion once the proposals selected to participate have been confirmed.
6. Two slots available.
7. Includes the performance of 1 showcase per artist/band in the framework of BIME Bilbao 2023, to be held in Bilbao (Spain) between 25 and 28 October 2023. BIME will assume the production costs of the showcase (venue, lighting and basic sound equipment, PA, technical staff and basic backline).
8. In addition to the participation in the showcases, the band will be able to benefit from accreditations giving access to the professional event programme, as well as a €300 travel allowance.
9. The selected artists/bands undertake to attend and cover the associated costs of travel and accommodation that are not covered by the organisation. BIME will not pay any fees to the artists for their participation.
10. The results of the call will be communicated to all applicants via email.
Don't wait to be part of the BIME experience!